Unique Society in the World covering mainly "Landslides"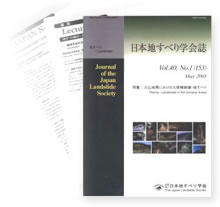 The Japan Landslide Society is a unique society in the world who researches mainly the "landslide" threatening our countries quite frequently. The causes for landslides are due to not only heavy rains or melted snow, but also the earthquakes such as "the Chuetsu Earthquake", "the Iwate-Miyagi Nairiku Earthquake", "The great East Japan Earthquake". When large-scale landslides occur, "Emergency Investigation Group" is organized by the volunteers belonging to the Landslide Society and makes a field inspection. The research results are reported at meetings, symposiums held regularly, the Journal of the Japan Landslide Society published 6 times a year, or irregularly in the "Landslides in Japan" publications. All the interested parties give an attention to these publications.
And the daily research results are not limited to the Society, but also the activities such as "Lecture for General Citizen", "On Site Seminor", "Local Field Visit Meeting", "Childlen's Landslide Society", etc. Furthermore, these activities are planned and managed initiatively by 7 branches covering the whole nation, that is, Hokkaido, Tohoku, Kanto, Niigata, Chubu, Kansai and Kyushu. Thus, we are proud that the activities of Japan Landslide Society who is bearing in mind "Security and Safety" are attractive to those people who have a little knowledge of landslide regardless of industry, government and academia. We appreciate your enrollment in the society.
Application for Regular or Student Membership
This Society consists of about 2,000 personal members of researchers or engineers of universities, research institutes, government and municipal offices, consulting firms, etc. Their specialties cover various fields such as geology, geomorphology, soil engineering, forestry conservancy/erosion control engineering, civil engineering, etc.
We back up the student members who are engaged in the research on landslides at graduate schools, universities, colleges, technical colleges and vocational schools.
Membership Fee for Regular Member: 10,000 yen (annually)
Membership Fee for Regular Member in developing countries: 5,000 yen (annually)
Membership Fee for Student Member: 3,000 yen (annually)
  Notice: If you get a salary from a company or any other organizations, you can't be the student member.
       In this case, you can apply the regular member.
---
Application for Supporting Membership
Please email to the following address to apply for a supporting member.
e-mail : member?landslide-soc.org
Attention! Please replace ? with @.
Admission Fee for Organizational Supporting Member: 50,000 yen/unit (annually)
Admission Fee for Personal Supporting Member: 15,000 yen/unit (annually)
---
Notification of Change in Member Information
If your contact address, mail address or telephone number, etc. is changed, you are asked to notify us of the change.
Click on the "Update Contact Information" link located on the sidebar menu.